K-Sounds' Montage Format Sound Libraries
K-Sounds' new Epic Grand is a stunning piano sample library for the Yamaha Montage featuring close-miked stereo samples of a Japanese grand. With pristine multi-dynamic samples and generous sustain, this virtual piano is designed to make your music truly epic.
Epic Grand is incredibly playable. Every note sings. The stereo image is wide, centered, and mono-compatible. You'll love our true sampled damper resonance with intelligent pedal response, release resonance, and mechanical noise samples.
Two bank sizes are provided: a 504Mb bank with eight sampled dynamic levels and a 125Mb bank with four sampled dynamic levels. Both banks offer damper resonance, release resonance, and hammer noise samples. And more importantly, both banks sound incredible.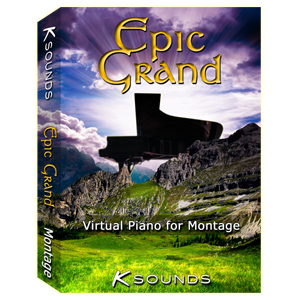 K-Sounds presents Organimation, a tonewheel organ sound library designed to be the definitive organ resource for the Yamaha Montage.
Organimation features expertly programmed performances based on detailed samples of a vintage tonewheel organ. All nine drawbars have been faithfully recreated with up to 8-way independent control. Percussion is available at both harmonics and speeds. Several performances feature optional warm overdrive, and our rotary speaker and chorus effect programming is simply fantastic. If you play organ parts on a Montage, Organimation is sure to bring a smile to your face!