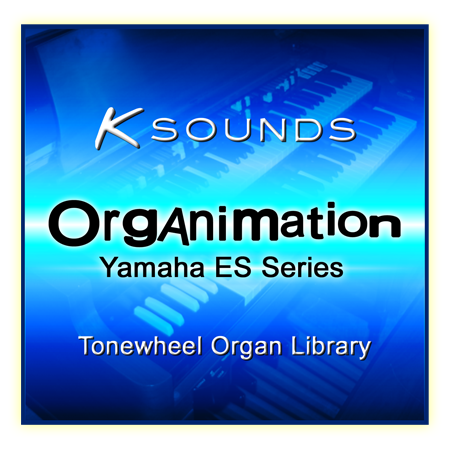 $40.00
Instant Download
Specifications
49 Solo Voices.
26 Performances.
Additional toolkit of voices for use in performances.
Extra thick rotary speaker effects.
Real time control options.
Product Description
K-Sounds is proud to offer Organimation, an innovative tonewheel organ sound library for the Yamaha Motif ES, Motif-Rack ES, MO, and S90 ES. This collection of voices and performances will animate your synth's organs like never before! Organimation offers rotary speaker simulations comparable to dedicated organ clones, allowing you to leave the clone at home - or in the store! What's more, every sound offers real-time control over the character of the rotary simulation, and many feature real-time drawbar control, real-time adjustable chorus, or single-trigger percussion.
Organimation features 49 "solo voices" and 26 performances programmed for a wide variety of applications including rock, jazz, and gospel styles. Dozens of additional "component voices" are provided for use in Performance and Mixing modes. Component voices present individual drawbars, multiple drawbar combinations, adjustable chorus simulation, built-in stereo enhancement, and more. Whether you're looking for excellent presets or a capable organ toolkit, Organimation delivers.
Because Organimation does not require sample RAM, all Yamaha Motif ES, Motif-Rack ES, S90 ES, MO6, and MO8 users can load these sounds.
Download User Guide
K-Sounds Organimation ES Series Format User Guide