K-Sounds' M3 Format Sound Libraries
K-Sounds' Signature Piano is a beautiful sample library featuring recordings of a 7'6" Japanese grand piano. Offering pristine stereo samples throughout the dynamic range and a slightly ambient studio sound with plenty of sustain, Signature Piano is poised to become your signature sound.
Signature Piano features multi-dynamic stereo samples, true sampled damper resonance, release resonance samples, and mechanical noise samples. Each element can be adjusted or disabled entirely, allowing you to personalize your piano sound.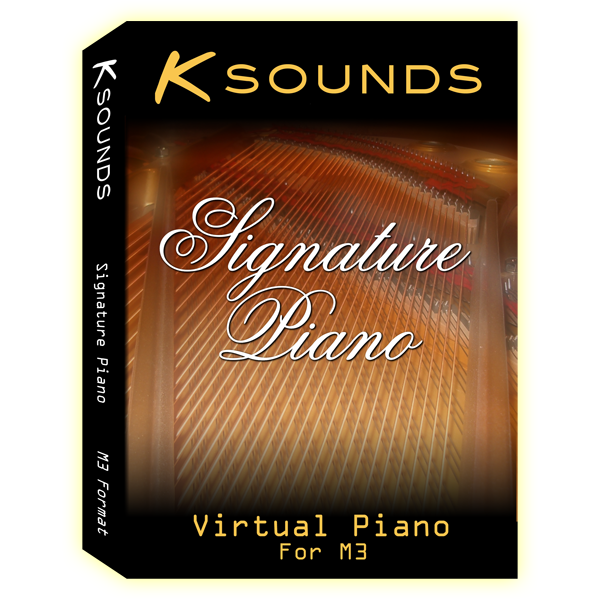 K-Sounds is proud to present Classical Nylon Guitar. This beautiful sample library offers full-length, unlooped samples taken at eight dynamic levels, plus various sampled and programmed playing techniques.
Classical Nylon Guitar includes a variety of presets designed to facilitate complete performances in a single take. Idiomatic fret noises, key-off noises, slides, mutes, vibrato, and more combine to create a lifelike musical experience. You'll find natural and enhanced solo guitars, velocity splits with mutes and harmonics, extra-wide stereo guitars, and layers with pad, strings, and choir. There is even a selection of sounds that facilitate very fast strumming.
K-Sounds presents Organimation, the definitive tonewheel organ sound library for the Korg M3. With true drawbar and percussion samples taken from a vintage tonewheel organ, massively upgraded rotary speaker effects, and up to 9-way drawbar control, Organimation unleashes the true organ power of your M3.