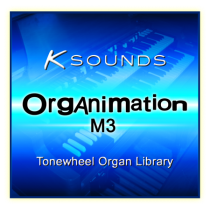 $50.00
Instant Download
Specifications
Tonewheel organ sounds.
Detailed samples of all nine drawbars with independent real time control.
Single-trigger percussion.
Chorus.
Tube emulation effects.
Clonewheel quality rotary speaker effects.
Connect a second keyboard for bass or comping.
Product Description
K-Sounds presents Organimation, the definitive tonewheel organ sound library for the Korg M3. With true drawbar and percussion samples taken from a vintage tonewheel organ, massively upgraded rotary speaker effects, and impressive real-time control options, Organimation unleashes the true organ power of your M3.
At the heart of Organimation are long-looped samples of true vintage tonewheels, capturing their signature complexity, key click, and leakage. We carefully recreated all nine drawbars in the M3, constantly referring to the original, so that any drawbar setting you choose will sound authentic. We also included full-length percussion samples, programmed to provide single-trigger performance (like a real tonewheel organ) with harmonic and volume variations. Selectable chorus and vibrato effects are provided, and tube emulation effects further sweeten the tone.
Utilizing both Program and Combination modes, we've included dozens of classic drawbar settings and organ tones. And if you want to sculpt the sound yourself, the power is there like never before. All combination mode organs include up to 9-way drawbar control (8-way minimum), selectable chorus / vibrato (6 choices), selectable percussion, and the options to stop the rotary speaker, add reverb, and boost presence. As if that's not enough, Organimation is even optimized for double manual operation! On MIDI channel 2, you'll find three more adjustable drawbars that are already configured for bass or comping.
No tonewheel organ sound library is complete without a killer rotary speaker effect, and Organimation delivers! Two unique rotary speaker simulations provide authenticity that's typically reserved for dedicated organ keyboards. Rotary 1 is very wide with a glassy, shimmering high end. Rotary 2 is ultra thick, providing a depth of animation that holds it own in any mix, even without chorus added. Nothing even close is found in the M3's factory presets.
Download User Guide
K-Sounds Organimation M3 Format User Guide