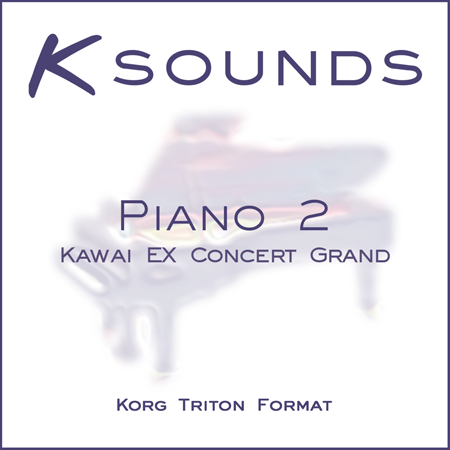 $75.00
Instant Download
Specifications
Piano sample library programmed specifically for the Korg Triton series.
Velocity-switched, stereo samples.
Exclusive damper resonance emulation.
Solo and layered pianos.
PCG file provided for Triton, Triton Studio, Triton Extreme, and Triton Rack.
PCG file provided for TR and Triton LE.
Multiple bank sizes for RAM management.
Product Description
K-Sounds proudly presents Piano 2, an incredible piano sample library for the entire Korg Triton series. Piano 2 features a Kawai EX concert grand, carefully sampled and fully programmed. Unlike most Triton-format pianos, Piano 2 includes a sample-based emulation of damper resonance that plays like a dream. If you've longed for beautiful, resonating pedal-down samples that respond in real time, this is your piano.
Eleven two-velocity configurations are included, ranging from 43Mb to 95Mb. Our exclusive damper resonance emulation is included in five of these configurations, starting with a 59Mb bank.
Sixteen all-new solo piano programs and twenty-three exclusive combinations cover a wide variety of applications and styles. Programs vary brightness, timbre, and dynamic response. Combinations layer piano programs with electric pianos, B3 organs, pads, orchestras, and string sections. Piano-bass keyboard splits are offered as well.
Tired of pianos that die away too quickly? Piano 2 is designed to sustain beautifully.
Want a piano that can be heard in a dense mix? Our Compressed Piano program maintains a powerful presence in a mix, and our Full, Bright, and Dance pianos give you plenty of richness and brightness. To hear them in action, check out our mix demos below.
Need warm, playable pianos for classical or film applications? Our Full Dampers combination offers lush richness, and our Classic and Dreamy pianos offer plenty of sentimental variety.
Piano 2 includes two PCG files (collections of programs and combinations that turn the raw samples into playable piano sounds). One file is designed for the Triton, Triton Rack, Triton Studio, and Triton Extreme. The other is programmed for the Triton LE and TR to provide all of the same programs and combinations, optimized for the more limited effects processors of the LE / TR.
Download User Guide
K-Sounds Piano 2 - Triton Format User Guide
Requirements
Triton Models:
Piano 2 is compatible with Triton (Classic), Triton Rack, Triton Studio, Triton Extreme, Triton LE, and TR.
RAM Requirements:
Minimum 64Mb RAM. Banks range from 43Mb to 95Mb. Triton Classic, Triton LE, and TR models hold a maximum of 64Mb RAM, so banks larger than 64Mb will not load on those models. Note that all demos on this page use banks that fit within 64Mb.
Media Requirements:
Compatible media accepted by your Triton model. (See the synthesizer's owner's manual for details on compatibility.)
- Triton: SCSI hard drive or SCSI CD-ROM drive.
- Triton Studio: Internal CD-ROM drive (recommended) or external SCSI hard drive / CD-ROM.
- Triton Rack: SCSI hard drive or SCSI CD-ROM drive.
- Triton Extreme: USB flash drive.
- Triton LE: Smart Media card (recommended) or SCSI hard drive / CD-ROM (requires SCSI connection).
- TR: SD card (recommended) or SCSI hard drive / CD-ROM (requires SCSI connection).
Other:
- Latest Operating System
- Triton Classic and Triton Rack must have the SCSI option installed. This option is included with the Triton Studio, and it is not necessary with the Triton Extreme or TR. LE owners may bypass the need for SCSI by using smart media.
Audio Demos
The 59Mb configuration was used for all demos. No reverb, EQ, compression or other effects processing was added. What you hear is Piano 2 only.
Mix demos were created using a Triton Studio and Motif ES. The Triton Studio supplied the Piano 2 programs, presented unaltered (no additional EQ, compression, or other processing). The Motif ES was used for all other instruments.
Solo Pianos
Full Piano
Classical Piano
Full Dampers (Includes damper resonance emulation).
Bright Piano Demo 1
Bright Piano Demo 2
Compressed Piano
Dance Piano
Dreamy Piano
Piano and Pad
Mix Demos
Pop / Rock Mix
Classical Mix
Light Groove Mix
Feature Comparison
Damper Resonance Emulation On
Damper Resonance Emulation Off