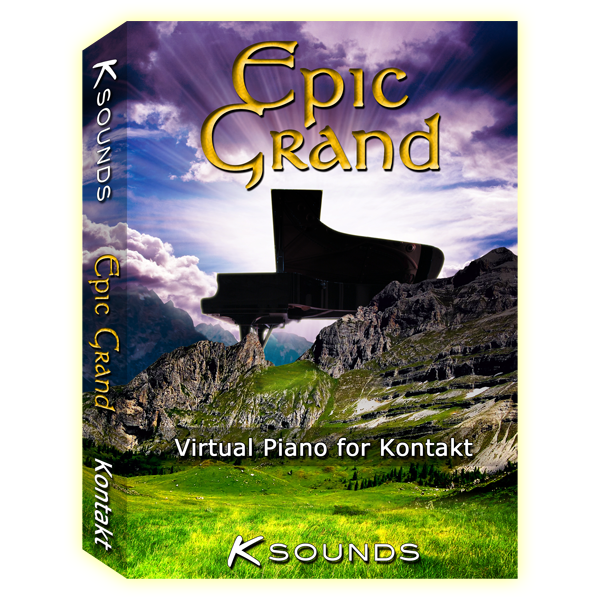 $85.00
Instant Download
Specifications
Unlooped stereo samples up 20 seconds.
8 sampled dynamic layers.
True sampled damper resonance.
Release resonance samples.
Hammer and damper noise samples.
Wide stereo image.
Mono compatible.
Highly adjustable touch response.
Integrated 3-band EQ.
On / off and volume controls for damper resonance, release resonance, and noises.
Instrument files for Kontakt 2 and 5 provided.
Natural and studio EQ Presets provided.
Big sound with modest requirements.
Designed to be incredibly playable.
Product Description
K-Sounds is proud to present Epic Grand, an amazing piano sample library for Native Instruments Kontakt featuring close-miked stereo samples of a Japanese grand. With pristine samples throughout the dynamic range and plenty of sustain, this piano is designed to make your music truly epic.
Epic Grand offers a unique implementation of the sympathetic string resonance heard when the damper pedal is pressed: Independent real sampled resonance is provided, not mere convolution or digital effects. Combining this resonance with pedal-up samples and damper noises yields incredibly authentic results. And because the resonance is presented as an independent component of the instrument, pianists can pedal naturally. Even if notes are already held when the pedal is pressed, resonance for those notes will still sound.
It's important that a virtual piano match its user's playing style and the action of their controller keyboard. Epic Grand's unique interface allows users to tailor the instrument's response by drawing a custom touch response graph (velocity curve). Drawing your own graph is very easy: Simply right-click and drag the mouse.
Epic Grand offers native files for Native Instruments Kontakt versions 2 and 5. For each version, select from two instrument files. One file provides a studio EQ setting for polished, CD-ready sound. The other file presents a completely natural piano tone, allowing you to EQ the sound as you would a real piano.
At K-Sounds, we believe the most important requirement of a virtual piano is that it be refreshingly playable. That's why Epic Grand was played constantly during its development process. The result is far greater than just a collection of samples. We believe it is one of the most musical and playable sampled pianos available.
Download User Guide
Epic Grand Kontakt Format User Guide